Dermatologists in Singapore 101 – What To Know About Laser Treatments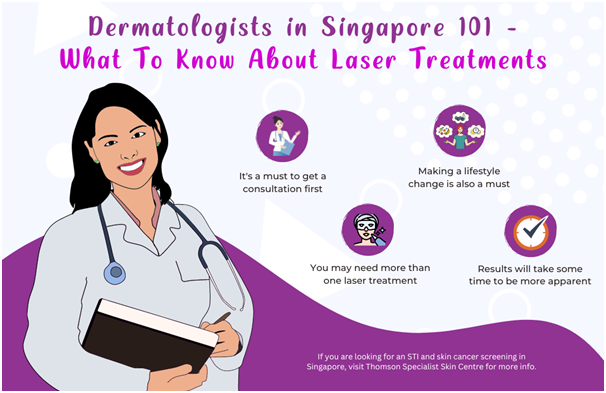 Whether you're looking for a scar or eczema treatment in Singapore, there's no denying that laser therapies are becoming a staple for effective skin treatment with minimal downtime. While laser therapies widely vary in methods and approaches, it's still ideal to have an idea of what you're getting into.
A laser can almost seem like a 'magic' solution for many cosmetic and skincare concerns. Many expect impressive results without experiencing any side effects with minimal downtime. Knowing the fundamental facts about laser therapy and how you can prepare for it is essential for getting ideal results:
It's a must to get a consultation first
Getting a medical consultation first is integral before proceeding if you're planning to get laser therapy for scars or laser treatment for pigmentation. It's often best to make an appointment first with a cosmetic doctor or a dermatologist for possible side effects you might experience. In some cases, they might likely give you alternative suggestions or prescribed medications to take to prevent the laser from scarring your skin.
Making a lifestyle change is also a must
Making lifestyle changes become essential when assessing someone's health, be it a health check or an STI screening in Singapore. When it comes to recovery after laser treatment, a specialist would recommend you consider making a few lifestyle changes before and after treatment. One of the most common lifestyle changes will require you to stop smoking for a few weeks to prevent taking certain vitamins and medications. Some dermatologists will also advise you to avoid the sun or tanning to prevent skin damage.
You may need more than one laser treatment
Many cosmetic doctors and local dermatologists in Singapore would suggest getting more than one laser treatment (depending on the condition) to maximise the result. While it may sound like getting 'over treatment', it will help you achieve long-lasting results and provide a more desirable treatment outcome. Again, it depends on what the specialist recommends or advises.
Results will take some time to be more apparent
While laser treatment provides a solution to numerous skin and other cosmetic conditions, it will take some time to notice some significant improvements. Other laser treatment forms may take weeks to months to see some major changes and for the results to be more 'visible'. Nonetheless, you can observe subtle changes in less than the first few days and weeks after the procedure. The slow improvement is a normal process, which is something you should not worry about.
If you are looking for an STI and skin cancer screening in Singapore, visit Thomson Specialist Skin Centre for more info.