Smile Rehab: A Comprehensive Comparison of Invisalign and Traditional Braces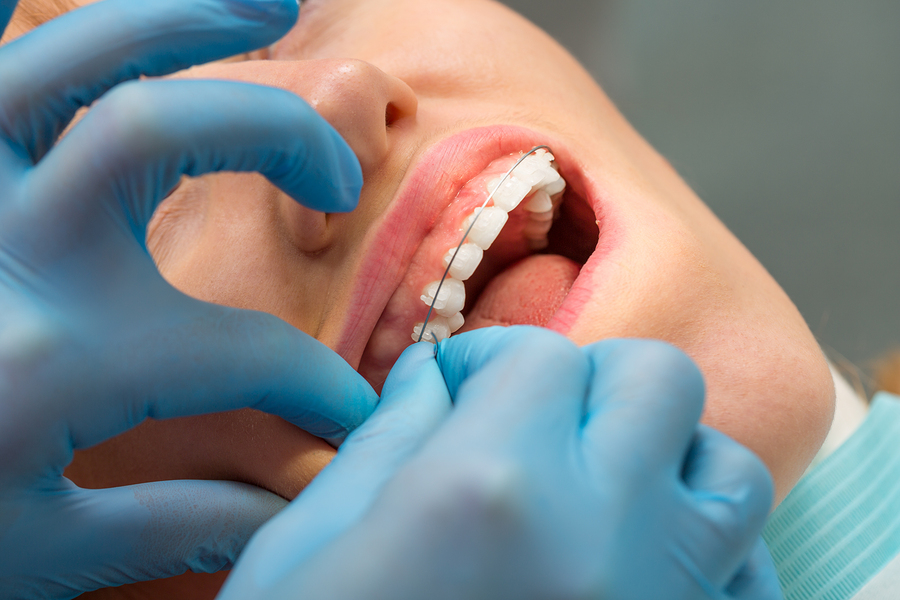 Having a beautiful smile can change your life. Instead of living with crooked teeth and an off-center bite, orthodontists like those at The Happy Tooth can help you get everything in line. Braces aren't just for kids in middle school anymore as adults are turning to braces and Invisalign to fix their smiles, too.
When you have straight teeth, you not only have more self-confidence, but you will have an easier time taking care of your mouth. It is easier to keep your teeth clean when they are straight, so cavities and tooth decay are less likely to happen. Since oral health is often indicative of overall health, being able to take better care of your mouth is vitally important.
How Do Braces And Invisalign Differ?
If you are looking to straighten your teeth and improve the alignment of your bite, both braces and Invisalign get the job done. However, there is a big difference in the way they do it. Our orthodontists can help you decide what is right for your mouth and your budget, but it is helpful to understand what both options can do.
Metal braces are what most people envision when they think of straightening their teeth. They have worked for decades and continue to work today. To get teeth straightened, the orthodontist will glue metal brackets to the tooth. Then, wires made of different stiffnesses are fed through the brackets. The wires are changed every few weeks to move the teeth into the proper position. Tiny bands are placed over the brackets to hold the wires in place. If you choose metal braces, you are not stuck with metallic colors as manufacturers now make them in colors that blend in with teeth and in bold, bright colors for people who want their braces to be fun and creative.
Invisalign is one of the newest options for people who want to improve the look and alignment of their teeth. These are more discreet than metal braces, so they are a common option for adults who do not want a smile filled with metal. Invisalign works with trays that fit onto the teeth with the goal of gradually aligning them. The trays are made with a three-dimensional image of your teeth so they fit perfectly as your smile changes.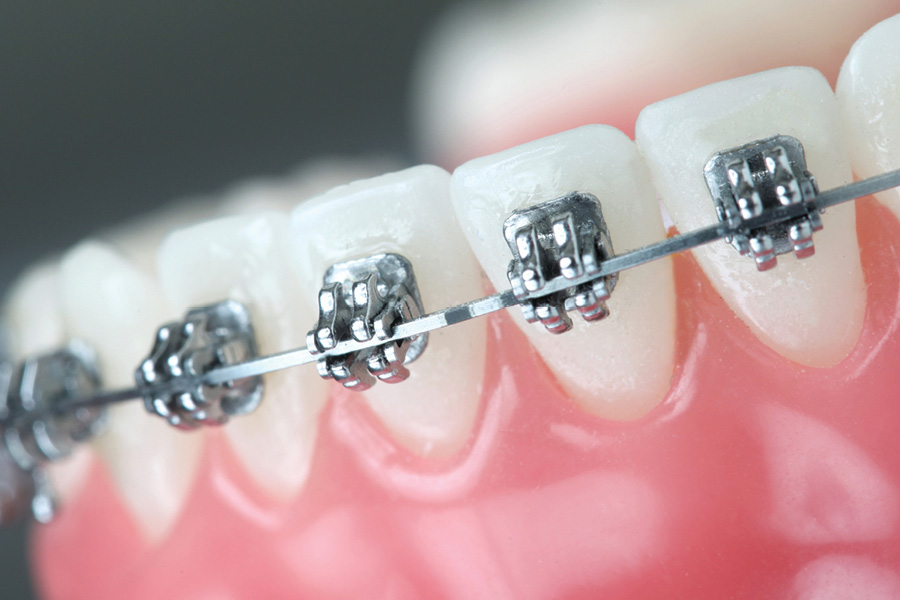 What Are The Benefits Of Wearing Metal Braces?
Braces might not be the prettiest option, but they work. They are a good choice for people who want a speedy change without having to think too much about it. The average time that people wear braces is for two years; of course, that number is dependent on what needs to be fixed. When you wear traditional metal braces, you never have to worry about losing them, because they are fixed in place.
If you have major issues that need to be repaired, metal braces are the best choice. There are plenty of options that orthodontists can use with them, like adding rubber bands to fix bites. Kids enjoy choosing their bands colors after every wire change and adults can also have fun with the different choices, too.
Metal braces are easy to keep clean. All you have to do is brush your teeth like you would if you didn't have braces. The only difference is that you have to thread floss through between the wires, but orthodontists have special threaders that simplify the process.
Another benefit to having metal braces is that you see your orthodontist each month to have the wires changed. This gives your orthodontist time to evaluate the progress and to give you updates. With these monthly visits, your orthodontist can fully customize the process of aligning your teeth and your bite. You can always ask about your progress and orthodontists are always happy to show you what your mouth looked like prior to getting braces.
Orthodontic work is not cheap, but the cost of braces generally includes all of the diagnostic work like making molds and taking x-rays. It also includes the monthly visits to change the wires and any extra treatments that the orthodontist sees as necessary. It also includes the aftercare that usually includes a customized retainer and any after-care visits you might need for the first few months. If you have health or dental insurance, it is a good idea to see if orthodontic work is covered, especially if it is related to a bite or jaw issue.
What Are The Benefits Of Wearing Invisalign?
Invisalign is a good choice if you need minor work done on your teeth and bite. The best thing about Invisalign is that they are completely removable. You will have to take the trays out to eat and drink. The other good thing about Invisalign is that the trays are clear. Adults appreciate this because they can wear them without people noticing. Because they are removable and nothing is permanently attached, they are quite comfortable because they do not have brackets that can irritate the gums.
Invisalign trays do work quickly, but only if you wear them as recommended. If you wear them all day and all night, your teeth should reach their optimum alignment in no more than 18 months. In some situations, Invisalign trays are only needed for around six months. This is because Invisalign is used for minor alignment work rather than major realignment and jaw work.
Another benefit of using Invisalign is the ease of caring for them and your mouth. Since you can take out the trays, you can brush and floss your teeth just like you did before you started using the trays. There is nothing to maneuver around which makes it easy to keep your teeth looking good. The trays can also be brushed with a toothbrush and toothpaste, then rinsed with lukewarm water. You should clean your Invisalign trays after you eat and in the morning and at night.
Your orthodontist will ask you to visit every four to six weeks to check on the progress. It is important that you change your trays at the recommended pace so your teeth will align properly. To cover the cost of Invisalign and the regular visits to the orthodontist, it is also important to check your insurance coverage.
What Are The Problems That Come With Braces?
For many people, the biggest concern with braces is the way they look. The other problem is the way they feel, as there is usually some discomfort after the wires are changed the teeth start to move. The wires can poke the back of the gums as the teeth move. People who are involved in sports also worry about how the metal braces can injure their gums, too.
Another common concern about braces involves caring for the mouth. Sometimes braces can stain the enamel, leaving a permanent mark when they are removed. It is also common for food to get stuck in the wires and between the teeth, which can lead to cavities and tooth decay. It is very important that anyone who wears braces brushes and flosses several times each day.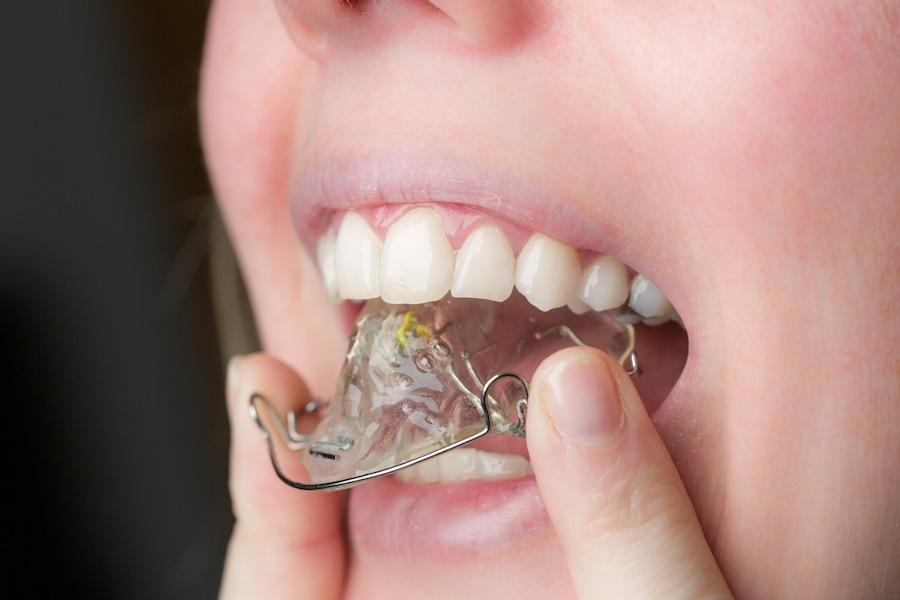 What Are The Problems That Come With Invisalign?
Like braces, the biggest concern comes with discomfort, especially after changing to a new tray. Another common problem is the lack of options for people who need major work done as Invisalign does not help rotate teeth or help fix back-tooth bite problems. Insurance may not cover Invisalign if it is used for purely cosmetic reasons. One other issue with Invisalign is that it talking with the trays it can be awkward.
It can also be easy to lose the trays or to forget to put them in, especially if you are a busy person with plenty of things on your mind. If you do forget to put your trays in, you can slow down the progress of aligning your teeth. The trays are not replaced for free, so if you accidentally throw one away, you will need to pay for a new one.
Additional Considerations For Braces And Invisalign
There are distinct pros and cons to both braces and Invisalign. If the work that needs to be done is extensive, you might not have a choice between the two options, but if you do, it is important to consider what treatment will work best for you and your lifestyle.
If you are making the decision for a child, you will need to determine how much responsibility that child can handle and how much you want to be involved as a parent or caregiver. If you are making the decision for yourself, then you also need to consider how much thought you want to put into straightening your teeth.
Invisalign is a good choice for minor work and for people who need to consider their appearance. Braces and metal retainers are noticeable and Invisalign is a good choice for adults or teens who want something more subtle.
But, you are someone who does not want to think about putting in and taking out trays, braces might just be the perfect option for you. All you need to do is visit the orthodontist monthly and take good care of your teeth. With braces, you do not have to clean trays or take them out to eat and drink. You will never have to worry about losing your braces.
Both braces and Invisalign work well, but the choice for your lifestyle and your oral needs is up to you.